Santa Cruz Church (Old Cathedral)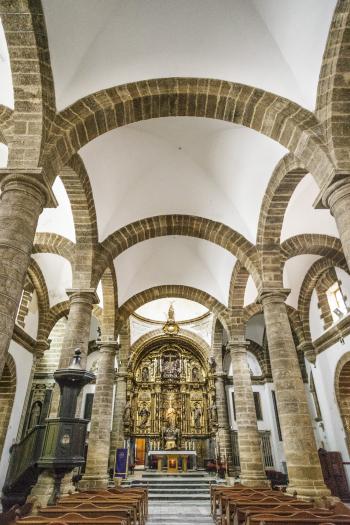 The Santa Cruz Church or Old Cathedral is the oldest church in the city and tradition has it that it was built on the site of an old Muslim mosque.  It was built at the behest of Alfonso X The Wise and became a cathedral in 1263, when the Wise King expressed his desire to be buried there, even though that wish was never fulfilled.
The original building was Gothic-Mudejar with three naves and roofing made by artisans.  The first modification was in 1572.  The subsequent Anglo-Dutch attack in 1596 left its structure badly damaged due to a fire. The necessary reconstruction in 1606 was used to extend the building, with a hall floor plan and pseudo transept, divided into three naves by Tuscan columns supporting pointed arches.
The outside is very simple, an impression that is reinforced as it has been stripped of the large side entrance whose elements were used to decorate the New Cathedral. The only decorative aspects are three coats-of-arms placed on the lintel with the emblems of the Catholic Monarchs, the cathedral and of Bishop García de Haro. The tower, which is separate from the structure of the church and attached to the building of the Counting House, has a rectangular floor plan, finished with a polygonal chapitel covered with glazed ceramics.
The main altarpiece, a fundamental part of the Cadiz Baroque, is one of the main features inside. Made out of gilded wood, it was designed and produced by Alejandro de Saavedra in 1640, and the sculpturing was made by Alonso Martínez in 1658.  It is a single unit divided into five sections by fluted pilasters and columns. The main section is highlighted by Solomonic columns and is in the shape of a hemicycle with twelve niches that house the apostolate.
The embellishments and iconography of the Genoese Chapel, arranged on the coloured marble altar dating back to 1671, along with  the figures of St. Lawrence, St. Jorge, St. Bernard and St. John the Baptist are also particularly noteworthy. This chapter has an outstanding wooden Christ Crucified dating back to the 17th century.
The notable features of the following chapters are the figures of the Cristo del Mayor Dolor and El Perdón brotherhoods, along with those of the Soledad and the Santo Entierro brotherhoods, all of which have a great following in the city.
Particularly noteworthy is oa Rococo gilded wooden altar with the statute of Saint Anthony of Pádua in front one of the original entrances to El Sagrario chapel.  The figure is a multi-coloured wooden carving the work of Luisa Roldán, La Roldana, at the end of the 17th century.
Horario:
Summer and winter opening hours:
5.30 p.m. to 7.30 p.m. on Mondays
From 09.45 a.m. to 12.45 p.m. and from 5.30 p.m. to 7.00 p.m. from Tuesday to Friday
From 09.45 a.m. to 12.45 p.m. and 5.30 p.m. to 6.30 p.m. on Saturdays
From 10.30 a.m. to 12.30 p.m. and from 5.30 p.m. to 6.30 p.m. on Sundays
Closed on public holidays (open for mass at 11.00 a.m.)