Tavira Tower - Camera Obscura
Categoría:
Watchtowers with panoramic views of the city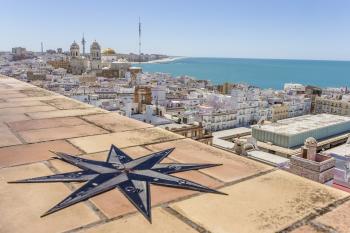 The Tavira Tower was part of the palatial home of the Marquises of Recaño. This building dating back to the first half of the 18th century is designed in the typical style of the civil architecture of Cadiz from the Baroque period.
Built on one of the highest parts of the city, it is the tallest of all of the watchtowers in Cadiz, standing 45 metres above sea level and in the centre of this city's old town. Due to its height and location, it became the official watchtower for the port of Cadiz in 1778 and is named after its first watchman, Antonio de Tavira.
It consists of two structures, the first with twin pointed openings separated by a marble column, and the second decorated with red ochre geometric paintings.
It boasts a unique tourist attraction, the Camera Obscura. This projects a moving, live image of what is happening at that very moment outside the tower. It is a relatively simple optical principle, already known in the times of Leonardo da Vinci.  It consists of a white screen, a mirror and magnifying lens. There are also two exhibition rooms in the towers.
Apart from the exhibition rooms and the Camera Obscura, the monument also has a breathtaking viewing deck from where you can enjoy the magnificent views over the city.
Horario:
From 10.00 a.m. to 6.00 p.m. Monday to Sunday
From 10.00 a.m. to 8.00 p.m. in summer (May to September)
Public holidays closed: 25 December and 1 January
Tarifas:
Admission €6 – groups (+10), over 65s, the disabled and students showing a student card €5
Servicios:
Pets not welcome

Dirección:
C/ Marqués del Real Tesoro, nº 10 (Acceso no adaptado)
Perfil de Facebook:
www.facebook.com/TorreTavira
Perfil de Twitter:
https://twitter.com/Torre_Tavira