K2 Internacional
Dirección:
Plaza del Mentidero, nº 19
Perfil de Facebook:
https://www.facebook.com/K2internacional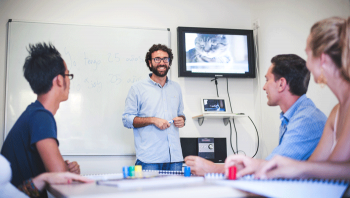 This is the place to come and study Spanish language and culture. Study Spanish in the historic old town, close to all amenities i.e. train and bus stations, the park (2 min. walk), the beach (5 min. walk) etc. There are many squares (plazas), coffee shops, bars and libraries nearby where one can sit and absorb the daily life of this wonderful city.
We are located in a three-storey, newly renovated historical building dating from the 19th century. It has seven comfortable, fully equipped classrooms with plenty of natural light. There is also a computer room and free Internet access (WIFI) and webcams, microphones and auriculars. There is a nice courtyard and at roof, a beautiful terrace offering great views of the city. We provide a meeting room, a free book, video and music library service to assist in your studies. All our facilities are there for you to enjoy during your stay with us.
Courses and extracurricular activities.
K2 INTERNACIONAL has developed a teaching method based on a communicative approach of tasks, and referring textbooks for objectives, content and the programme of the course.
During the course, you will develop the skills to understand, speak, read and write in Spanish. Moreover, we will help you to understand and learn the "real Spanish" used by the people and avoid standard models like "how to survive in Spain as a tourist". Classes will simulate real Spanish communication and you will get the opportunity to talk about everything or do and deal with topics related to linguistics as well as socio-cultural topics.
Spanish from day one: All our Spanish courses are intended to make it as easy as possible for you to learn and speak Spanish from your very first class. This is rounded off with a wide range of extracurricular activities which help you immerse yourself in Spanish culture.
Accommodation
During your stay in Cádiz, we have the ability and the power to organize the perfect accommodations. One option is to stay with a Host Family and become part of a traditional Spanish household. Another option is sharing a flat, where you can study, learn, and practice Spanish with other language students.
Living with a host family is highly recommended and ideal for a complete immersion into the Spanish culture. The friendly family atmosphere and amazing relationships you form will create an unforgettable and amazing experience.
Every host family is carefully selected and held to the highest possible standards.
FOR GROUP LEADERS (Young Students):
K2 Internacional has put into place a great team of professionals to give you the assurance that your students receive not only the best educational experience possible, but also have a fun and memorable time here with us in Cadiz.
Sit back and relax and let us take care of all the hard work for you from liaising with your home institution to organizing every last detail. We've got the experience and dedicated staff to support you every step of the way. (Organizing immersion programs in Spain since 2001).