Contemporary Design Area (ECCO)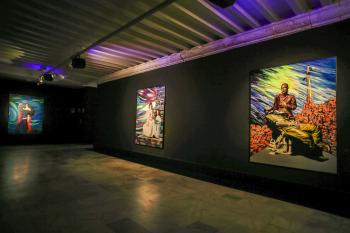 This modern cultural amenity is the result of the refurbishing and transformation of the former building of the Carlos III Garrison. The conversion of the military complex into a cultural space has created a system of consecutive areas that mean that the visitors make their way through the facilities in a series of rings.  The facilities have a museum area, lobby and landscaped courtyard.
The centre hosts a large number of contemporary art displays and exhibitions throughout the year. Its permanent exhibitions include the "El  Valle de los Caídos" [The Valley of the Fallen] collection by Enrique Naya and Juan José Carrero, "Costus".  These were iconic artists of the  Movida Madrileña, the countercultural scene mainly to be found in Madrid in the 1970s and 1980s. The approach of this collection was to capture the sculptures to be found in the Basilica of El Valle de los Caídos in paintings and choosing famous names from the Movida as some of the models.
Work started on the former barracks in 1733 and they were designed by Ignacio Sala. The original layout had a central building for the troops, with side rooms for officers.
Horario:
From 11.00 a.m. to 9.00 p.m. Monday to Saturday
From 11.00 a.m. to 3.00 p.m. on Sundays and public holidays
Servicios:
WIFI zone
Climate-control premises
Pets not welcome
Assisted access

Adapted WC
Dirección:
Pº Carlos III, nº 5 (Acceso adaptado)
Perfil de Twitter:
https://twitter.com/ECCOCadiz