Former La Palma Spa
Categoría:
Monuments and places of interest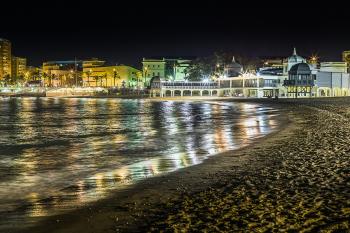 The building was opened in 1926 and replaced the traditional Royal Baths, a wooden amenity that dated back to the early 19th century. The poor condition of the huts caused the Provincial Council to announce a call to tender in 1924 to build a new spa.
It is a reinforced concrete complex that has two well defined hubs; the entrance building, built on the city wall, and the spa itself, built on pillars on the beach. It has a central zone flanked by towers topped with bulbous domes, attached to which there are two curved wings, at the ends of which there are domed buildings.
The modernist influence is obvious in the whole complex, along with the oriental Historicism typical of English spas.  It has few decorative features and special mention should be used of the tile panel depicting Our Lady of La Palma, the work of Justo Ruiz de Luna.
The building is currently home to the offices of the Underwater Archaeology Centre of Andalusia. Its field of action focuses on researching the underwater archaeological heritage existing in Andalusia, by means of documentation, intervention, conservation and restoration.
Servicios:

Dirección:
Avda. Duque de Nájera, nº 3 (Acceso no adaptado)
Perfil de Facebook:
https://es-es.facebook.com/visitcadiz
Perfil de Twitter:
https://twitter.com/VisitCadiz