San Sebastian Castle
Categoría:
Watchtowers with panoramic views of the city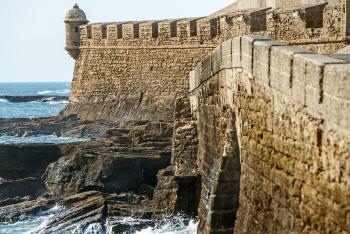 According to classical tradition, the Phoenician temple to Moloch / Kronos stood on this islet in Ancient Times.
San Sebastián Castle stands on this small island, which is named after a chapel built in 1457 by the crews of a Venetian boat, who were allowed to remain there to recover from the plague that devastated their vessel. To build this temple, the Venetians used the remains of an old lighthouse, replaced in 1613 by a watchtower, which also helped to guide seafarers defending the coast.  The lighthouse was rebuilt in the 19th century and it was replaced by the present structure in 1908.
A castle was built in 1706 to reinforce the defence of this position, which was initially reached by means of drawbridges across the perimeter moat. A parapet surrounded the island, except for the southern area, where the cliffs were considered sufficient.
In 1860, this parapet was replaced by a stronger fortification with inner bunkers and that was when the breakwater that still links the island to the city was built.
San Sebastián Castle is now used as an exhibition area in the inner bunkers and as a venue for concerts and other outdoor leisure events.
Horario:
10.00 a.m. to 8.00 p.m. from Monday to Friday
Servicios:
Pets not welcome
Assisted access

Adapted WC
Dirección:
Pº Fernando Quiñones, s/n (Acceso adaptado)
Perfil de Facebook:
https://es-es.facebook.com/visitcadiz
Perfil de Twitter:
https://twitter.com/VisitCadiz