The Puppet Museum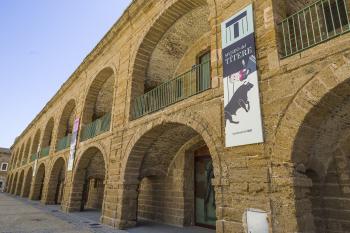 The Puppet Museum is nestled in a symbolic and vantage point of the city of Cadiz as is the Puertas de Tierra [Land Gate], and respects the aspect and the distribution of the original building.  Its main objective is to exhibit, document and preserve the memory of puppeteers, companies, craftsmen and designers both from Spain and the rest of the world.
The Puppet Museum has 1,500 metres and has 18 recovered barrel vaults, which are divided between the first floor and the ground floor of this attractive architectural enclave. The entrance to the Museum is through the courtyards of the old Fire Station, located in one of the sides of the turrets of the Puertas de Tierra. The premises have been adapted to a museum space by a series of different actions.  These include a well  thought-out use of the exterior space, the recovery and maximising the former way the  barracks and glacis were connected, laying out of the inside and recovery of the original ventilation systems.
The museum showcases the permanent exhibition "Puppets of the World" with items from the collection that Cadiz City Council bought from Ismael Peña in 2008.  This collection boasts over 500 items, including some 350 international puppets.
Horario:
From 10.00 a.m. to 7.00 p.m. Tuesdays to Fridays
From 10.00 a.m. to 3.00 p.m. on Saturdays, Sundays and public holidays
 
Servicios:
Pets not welcome
Assisted access

Adapted WC
Dirección:
Bóvedas de Sta. Elena (Acceso adaptado)
Perfil de Facebook:
https://es-es.facebook.com/visitcadiz
Perfil de Twitter:
https://twitter.com/VisitCadiz