Church of La Pastora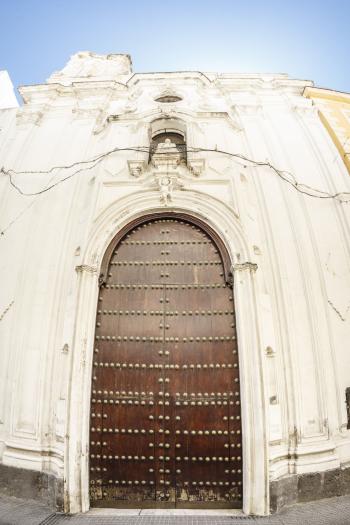 This chapel was built as the seat of the senior brotherhood of the Divina Pastora [Divine Shepherdess]. In 1736, the building work began and would be completed in 1762 and the appearance of the church has remained unchanged to the present.
The floor plan of the church is Greek cross, covered with half barrel vaults over the arms and a dome over pendentives in the transept.  
The façade has Corinthian boxed pilasters located in the centre of the façade, on which there is a marble statute of the Divine Shepherdess. The bell tower, consisting of Tuscan columns, is on the left corner. The dome is covered with glazed ceramic tiles in different colours.
The altarpiece inside, dating back to 1753, occupies the whole of the presbytery and its large dimensions contrast with the reduced space of the chapel, which creates an effect that is very typical of the Baroque style. It has three structures and the whole of its surface is richly decorated. The central structure has a side chapel with the figure of the Divine Shepherdess from around 1730 and attributed to José Montes de Oca.
Horario:
Lunes a viernes: 18:30 - 20:30h
Sábados: 17:30 - 21:00h
Domingos: 08:30 - 13:00 y 19:00 - 21:00 h
Servicios: